Top Digital Platforms in APAC & Their Western Equivalents
There are dozens of online platforms that are widely used throughout the Asia-Pacific region. Just like in North America, these platforms allow consumers to connect with loved ones, purchase goods, film videos, share photos, pay for products and services, and much more.
Despite having hundreds of millions of users (more than the most popular platforms in North America), some of these are virtually unheard of in the West. Furthermore, given that APAC covers a wide region with more than two dozen independent countries, the most popular digital platforms also vary greatly state to state.
In this infographic, we compare the top digital platforms in APAC and their Western equivalents.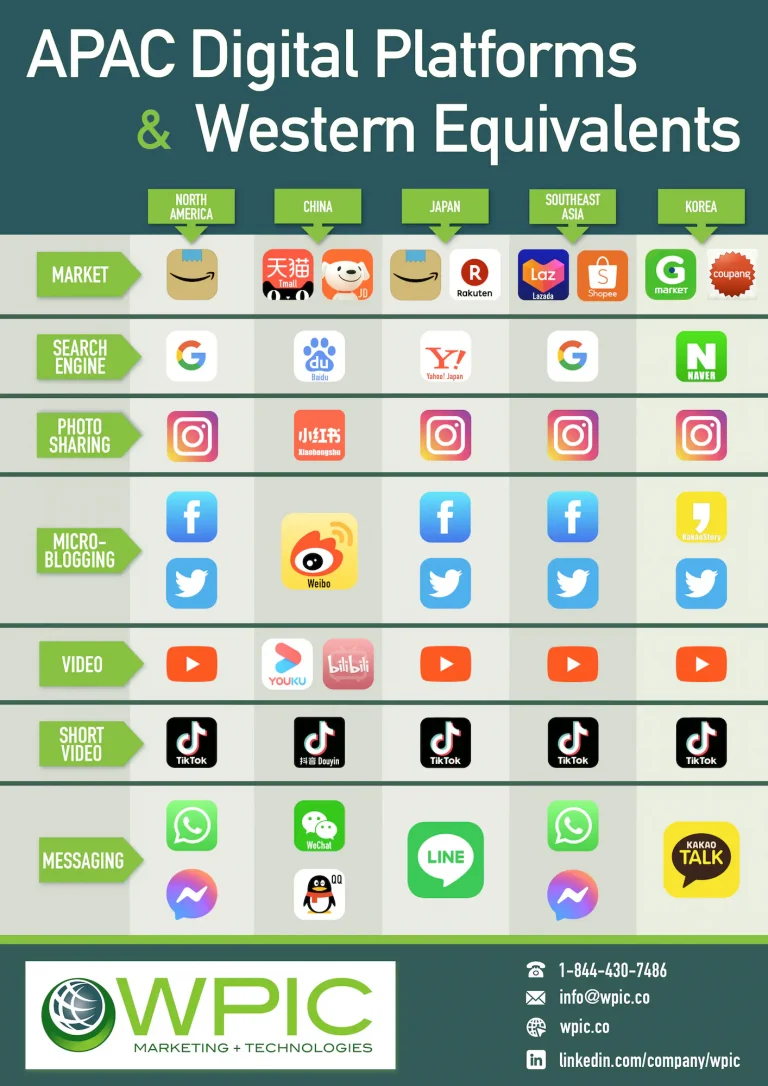 20 Top Digital Platforms in APAC to Know:

Chinese user-generated video sharing platform with a highly engaged, interactive community. The platform sees roughly 300 million monthly active users.

Korea's 2nd largest e-commerce marketplace, known for its delivery speed. Customers that make a purchase before midnight are delivered by 7 am next day guaranteed.

Short form video app for China with livestreaming & e-commerce capabilities. It is owned by ByteDance and is one of the hottest apps in China, especially among gen-Z and millennial consumers.

Also known as "Jingdong", JD.com is China's 2nd largest online marketplace. While its user base skews male compared to Tmall's female-leaning audience, it is still home to thousands of international brands and is known across China for its best-in-class domestic logistics network, ensuring that customers get their hands on their purchases as soon as possible.

A sister company to KakaoStory, KakaoTalk is South Korea's leading messaging app with features such as mobile payment, shopping, banking, and microblogging.

One of the largest e-commerce marketplaces in Southeast Asia with more than 50 million annual active users. Also owned by Alibaba, it is active in six different markets in Southeast Asia: Singapore, Thailand, Vietnam, Philippines, Malaysia and Indonesia.

Japan's most popular mobile app. Although it started as a messaging app, it now features microblogging, shopping, mobile payment, and more. It is also available in parts of Southeast Asia (Indonesia and Thailand) and has roughly 180 million monthly active users.

Korea's leading domestic search engine that draws heavily from user-generated content and social community café. Although Google still leads in Korea, Naver represents more than 25% of all searches in the market.

The largest online marketplace in Japan with over US$43 billion in gross annual sales. 1 in 3 Japanese consumers is a registered Rakuten user.

A chief competitor to Lazada, Shopee is the largest online shopping platform in Southeast Asia.

China's largest online retail marketplace with nearly 900 million active users. A subsidiary of Alibaba, Tmall acts as a virtual shopping mall and features brands from around the world across dozens of product categories, including fashion, beauty, health and wellness, consumer electronics, FMCG, child / baby / maternity, and more.

Instant messenger most popular with Chinese youth with over 585 million monthly active users. Some of the most popular features include online games, music and e-sports livestreaming.

China's leading messaging app. As a "super app" that is critical in every-day life in China, users can send money, play games, shop, read content, make reservations, and more, all without leaving the program.

Microblogging site that is a Facebook-Twitter hybrid. Boasts over 600 million subscribers, and often dictates "what's trending" in the national narrative.

Chinese lifestyle/review platform that bridges social media and e-commerce in one mobile app. Incredibly popular with millennial and gen-Z female consumers and fashion-conscious customers.

The web portal is Japan's most visited site with over 67 million monthly active users. Its services include news, shopping, travel, mobile payment, and much more. The search is powered by Google.

One of China's leading online video platforms, which typically hosts longer-form content. Owned by Alibaba, the platform currently boasts more than 500 million subscribers.
To know more about how WPIC can help your brand launch in APAC, please don't hesitate to contact us.
Explore Our Recent Library
Stay on top of industry trends and best practices.