What is 11/11 Singles Day?
China's 11/11 Singles Day, aka the double 11 shopping festival, is the world's largest retail event – dwarfing Black Friday and Cyber Monday combined. The festival is hugely important for brands that are active in China's e-commerce market – and has grown solidly every year since its inception.
Learn more about the festival's origins and year-on-year growth below.
How did Singles Day start?
11/11 Singles Day is believed to have begun in the 90s, when a group of university students declared that 11 November would be a day to celebrate being single. Students would buy themselves gifts to mark the occasion. The trend then spread to other universities.
Chinese e-commerce giant, Alibaba, launched its first shopping event on that day in 2009, offering consumers heavy discounts on its Tmall platform.
Other Chinese e-commerce companies then followed suit, marking the event with their own campaigns and promotions, and ultimately helping to propel 11/11 Singles Day to become the world's largest shopping festival.
Rather than one day, discounts and 'pre-sales' promotions now span several weeks — and preparations for the event begin months in advance. 
Much like with Black Friday and Cyber Monday in the West, brands rely on 11/11 Singles Day to drive their revenue figures as they enter the last part of the year. Consumers also hold off purchasing products in anticipation of the heavy discounts and promotions that have become synonymous with the occasion.
Take a look below to see how much the double 11 shopping festival has grown since its inception in 2009:
Singles Day 2009
The numbers for Alibaba's first Singles Day event 12 years ago:
27 brands

participated in the event

The festival generated a total GMV of

$7.8 million USD

A peak of

400 orders per second

was recorded
Singles Day 2020
With the covid-19 pandemic forcing the closure of brick-and-mortar stores and keeping consumers at home, 2020's edition of 11/11 Singles Day shattered all records:
250,000

brands participated in the event

The festival generated a total GMV of

$74.1 billion USD

A peak of

583,000 orders per second

was recorded
View more 2020 Singles Day figures in this infographic.
Singles Day 2021
JD.com and Alibaba kicked off promotions on Oct. 20, allowing customers to pay a deposit for items and secure the big discounts.
Alibaba announced that 290,000 brands took part in this year's double 11 shopping festival — the highest number of merchants yet.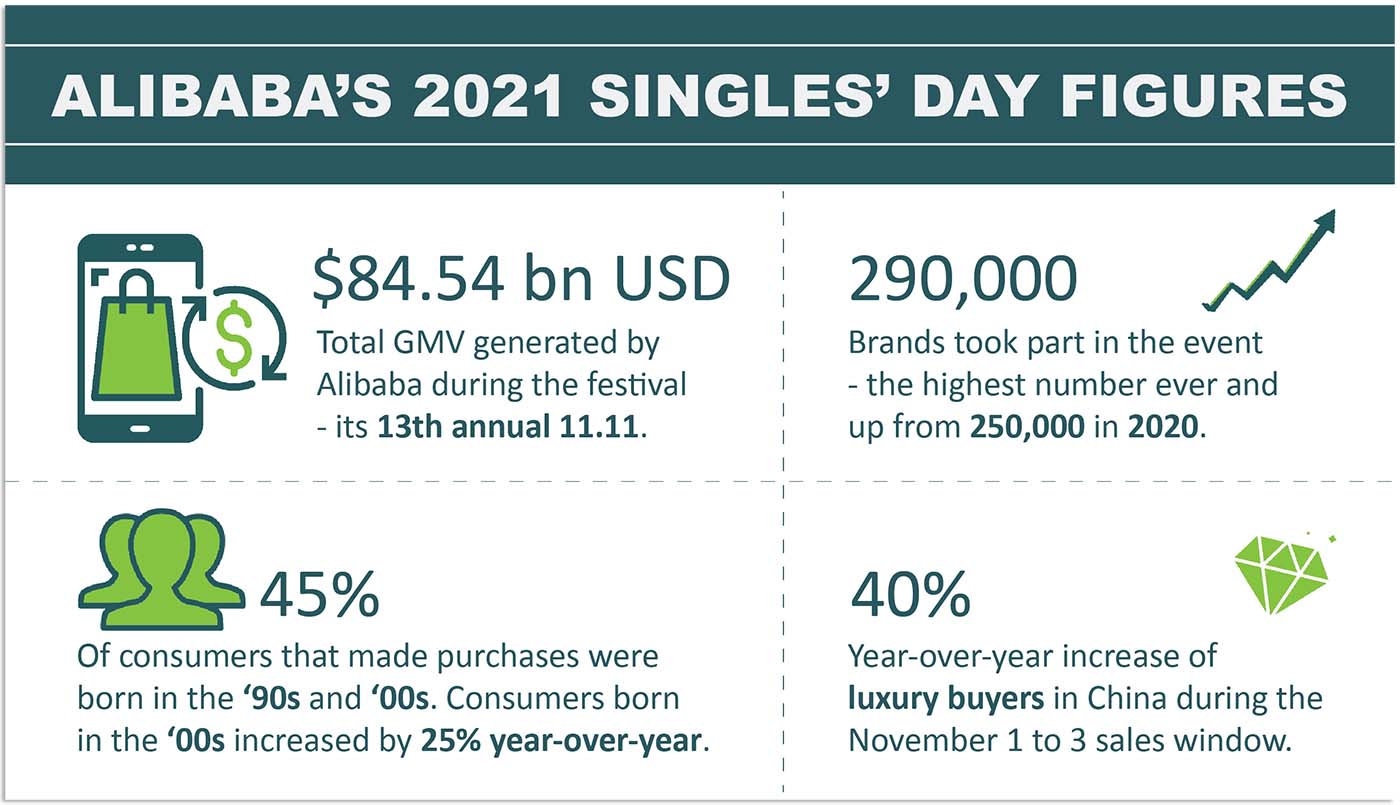 ** The 2021 Singles Day numbers for Alibaba are now out! View them in this infographic.**

China's shoppable livestream boom continues…
Following on from the success of livestreaming during 2020's festival, Alibaba's Taobao Live featured 700 leading KOLs, celebrities and brand representatives in livestream sessions. The platform has also rolled out a new feature for users to share their "shopping cart" items with friends and family, creating a more social shopping experience.
Livestreaming is expected to account for 15% of all e-commerce sales in China in 2021.
Focus on sustainability
Chinese consumers are demanding more commitment to the environment from the brands they support. The platforms responded by putting a big emphasis on sustainability and reducing the environmental impact of this year's event.
Tmall promoted green lifestyles by featuring a dedicated vertical to showcase energy-efficient and low-impact products. It also issued RMB100 million worth of "green" vouchers to incentivize environmentally-friendly shopping decisions.
JD.com also put a focus on sustainability saying that the 2021 Singles Day festival was "the largest one ever where renewable energy is being used."
Up next: How WPIC helped Klean Kanteen beat global supply chain issues in time for 11/11