4 stars you need to know for China influencer marketing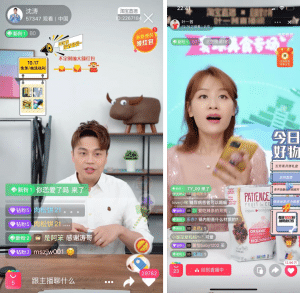 Influencer marketing has become one of the most effective ways for e-commerce businesses to build consumer awareness and drive sales. That's no different in China. In fact, with over 800 million active internet users and an e-commerce industry forecasted to reach $1.8 trillion USD by 2022, influencer marketing is perhaps more important in China than anywhere else on the planet.
Known locally as KOLs (key opinion leaders), influencers have become crucial for brands trying to penetrate China's huge media ecosystem and drive a buzz around their products. By engaging with their followers and making themselves relatable, KOLs have an ability to make products trend quickly and can draw in millions of viewers to live events (also known as livestreams) where they showcase and review items.
You may well be familiar with some of the stars that are helping brands in the Western world drive sales on platforms like Instagram, but China influencer marketing is different. For one, there is no Instagram in China. Instead, you'll typically find KOLs on blogging and social platforms like Weibo and WeChat and sharing short videos and livestreaming on platforms like Douyin, Kuaishou, and Taobao.
If you're looking to create a killer influencer strategy for your brand in China, understanding who the top stars are and on which platforms they engage, is crucial to your China influencer marketing.
China influencer marketing star #1: Viya
Viya is known for being able to sell anything through livestreaming and is the top ranked live-streamer on Alibaba's Taobao Live platform, where she's amassed over 38 million followers. Earlier this year, she even sold a commercial rocket launch for $5.6 million USD on the platform.
Viya is most known for helping brands sell cosmetics, appliances, food, and clothing items – largely through a livestreaming shopping extravaganza she hosts for her fans most nights. When coronavirus forced most of China into lockdown, Viya managed to draw in as many as 37 million viewers – double her normal followership on the platform.
Last year, she broke her own sales record by driving over $49 million in sales in a single day.
China influencer marketing star #2: Austin Li
Whilst Viya is Taobao's top ranked live-streamer, it is Austin Li who is the most infamous KOL on the platform. Known as the "Lipstick King", he once sold 15,000 lipsticks on Taobao in just five minutes.
As the go-to influencer in China for beauty products, Austin Li has over 45 million fans on Douyin – China's version of TikTok – where he livestreams his recommended products. Last year, his live stream on Taobao for China's annual 11.11 Singles' Day shopping festival generated more than $145 million USD in sales.
Having developed a huge female fanbase with his "boy next door" image, Li also features on the Hurun China Under 30s to Watch 2019 list – a list of China's top young entrepreneurs.
China influencer marketing star #3: Xin Youzhi
Xin Youzhi, also known as Xinba or the "king of sales", is the top KOL and live-streamer on short-form video platform Kuaishou. With over 71 million followers on the app, Xin has made a name for himself by helping brands sell anything from shampoo to mattresses.
In June this year, during the 618 shopping festival, Xin sold 1.25 billion RMB in products through a 10-hour livestream on Kuaishou. In 2019, he generated more than $1.9 billion USD in sales through all of his livestreaming services.
China influencer marketing star #4: Luo Yonghao 
Luo Yonghao is one of China's more controversial KOLs. He is the founder of failed technology company Smartisan and is also the founder of defunct blogging website Bullog.cn – which had a reputation for being one of China's more liberal blogging portals before it was shut down.
Having been plagued by financial problems, Luo Yonghao launched his livestreaming career on Douyin earlier this year. During his first livestream on the platform, Luo sold $15.5 million USD worth of goods, ranging from smartphones and razors to laundry pods and food. The 3.5-hour stream pulled in 48 million viewers – a new record on Douyin.
Since then, he's built a 14.9 million user following on Douyin and now has 17.3 million followers on Weibo.  
As you'd expect, partnering with some of the most iconic and well-known influencers in China comes at a price. That's why many brands lean on hired actors to take advantage of China e-commerce livestreaming to drive both awareness and conversions while maintaining relatively affordable ad-spends.
If you need support connecting with the right KOL for your brand, or in navigating China's e-commerce market, WPIC can help.